Brothers In Need

Widows Sons Jewelry



the first issue of the
WIDOWS SONS MAGAZINE

the Official
WIDOWS SONS INTERNATIONAL SITE
Don't be confused by the copycat site

THE OFFICIAL
INTERNATIONAL
WIDOWS SONS FORUM
serving the W.S. since 2001

Widows Sons Chapters
Mexico
New Zealand
Wyoming
Virginia
England
Lions Paw, Northern CA


MASONIC EDUCATION SITES
Masonic Teachings
The Builder Magazine 1915-1930
The Boundary Line of Our Conduct
Masonic Etiquette
Freemasonry Papers, Essays, Articles,
and Lectures


Always remember,
A Mason First, Then a Widows Son
OUR OBLIGATION AS A MASON
5 POINTS OF FELLOWSHIP


CONTACT US

IN ACCORDANCE WITH THE
FOUNDING BYLAWS AND
LANDMARKS AND TRADITIONS
OF THE WIDOWS FUNDS,
EVERY GRAND CHAPTER JURISDICTION SHOULD HAVE
A WIDOWS FUND IN PLACE
AND OPERATING OR SHOULD SUPPORT THEIR GRAND
LODGE'S WIDOWS FUND

THE FOUNDING PURPOSE
WAS/ IS TO AID AND ASSIST
WIDOWS OF MASTER MASONS...

FELLOWSHIP AMONG MASONS
WHO RIDE IS A DISTANT
SECONDARY PURPOSE

INTRODUCING THE WORLD
OF FREEMASONRY TO THE
WORLD OF MOTORCYCLING
AND VICE-VERSA WAS THE
THIRD PURPOSE OF FOUNDING
THE WIDOWS SONS.

THIS IS THE INTENDED FOUNDING ORDER OF PRIORITIES FOR THE WIDOWS SONS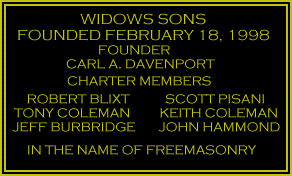 THE FOUNDING BYLAWS

WHY THE WIDOWS SONS WERE FOUNDED

FOUNDING MEETING MINUTES

THE WIDOWS FUND

WHAT DOES AUTONOMOUS MEAN

WHAT DOES WSFFWS MEAN?

A PROGRAM FOR MASONIC WIDOWS

STARTING A GRAND CHAPTER
MASONIC MOTORCYCE ORGANIZATIONS

W.S. ON FACEBOOK

VEST LECTURE

CHARGE TO A GRAND CHAPTER
INTERNATIONAL WIDOWS SONS LADIES GROUP

ORGS THAT NEED OUR SUPPORT

DYING TO RIDE
DYING TO RIDE WAS FOUNDED IN 2010 BY THE WIDOW OF ROB MILLS, A MEMBER OF THE NORTHUMBERLAND ENGLAND CHAPTER WIDOWS SONS, TO PROMOTE MOTORCYCLE AWARENESS. DYING TO RIDE IS NOT AFFILIATED WITH THE WIDOWS SONS, THE WIDOWS SONS ARE NOT REQUIRED TO SUPPORT DYING TO RIDE. ANYONE WHO JOINS D.T.R. DOES OF THEIR OWN FREE WILL AND ACCORD. D.T.R. THANKS THE WIDOWS SONS AND WIDOWS SONS CHAPTERS WHO WILLINGLY SUPPORT D.T.R.
DYING TO RIDE PATCHES
FOR THOSE WHO HAVE CONTACTED US ABOUT D.T.R. PATCHES, THEY ARE NOW AVAILABLE ON THIS LINK. PLEASE CLICK ON THE LINK RATHER THAN EMAILING ABOUT THEM.


IF YOU HAVE LOST A LOVED ONE IN A MOTORCYCLE ACCIDENT PLEASE ADD THEIR NAME AND THE YEAR OF YOUR LOSS IN THE DYING TO RIDE GUESTBOOK